What You Should Know About Child Car Seat Safety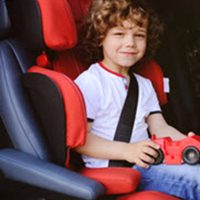 When car accidents occur in the Columbus area and a child is a passenger in one of the vehicles, the child is at risk of sustaining serious or fatal injuries in that collision. Child safety seats are designed to protect kids from severe injuries in the event of a crash, but safety seats are not always installed correctly, and parents or caregivers might believe their child is protected without realizing that the safety seat itself is an issue. Toward the end of September each year, a week is designated as Child Passenger Safety Week. Our Columbus car accident lawyers want to take the time to provide you with more information about child car seat safety and liability in the event of a collision.
Car Accidents Are Currently a Leading Cause of Death for Kids 
Why is child car seat safety such an important issue in relation to car accident injuries and kids' well-being? According to the National Highway Traffic Safety Administration (NHTSA), automobile collisions are currently the leading cause of death for children, and an average of two kids under the age of 13 are killed every day in car crashes, while an average of 374 kids are injured each day in a motor vehicle collision. In 2019, more than 600 children who were motor vehicle occupants were killed in accidents, and nearly 40 percent of them were unrestrained or not properly restrained.
Given that data, it is crucial to learn more about child car safety seats and how proper installation and use may be able to prevent child traffic crash fatalities.
Types of Car Seats for Children 
Parents and caregivers should learn more about the different types of car seats for kids at different ages, and how these seats are properly installed and used. According to the American Academy of Pediatrics (AAP), "because so many different seats are on the market, many parents find this overwhelming." While there are a wide variety of child safety seats on the market, and safety seats are often recalled due to defects, parents and caregivers can learn more about the key points concerning safety seat effectiveness: type of seat for the proper age group.
The following are the general contours for child age group and type of safety seat that should be used and installed:
For infants and toddlers, parents and caregivers should use either rear-facing-only or rear-facing-convertible seats, and all children within the weight and height range for these seats should always be rear-facing;
For toddlers and preschoolers, it is appropriate for the child to ride in either a forward-facing convertible seat or a forward-facing with harness seat, with children riding in a rear-facing seat for as long as possible according to the height and weight guidelines set by the manufacturer;
For school-aged children who are five and up who exceed the weight or height guidelines for a rear-facing seat, it is appropriate to ride in a belt-positioning booster seat, which should usually be used until a child has reached the height of 4 feet and 9 inches (which can be up to 12 years of age); and
Older children, aged 13 and up, should use seat belts in the vehicle and should always ride in the back seat.
Contact a Columbus Car Accident Attorney 
When a child is injured in a car accident, regardless of the child's age or type of safety seat in use, it is important to speak with a lawyer to determine liability and to file a claim. One of the Columbus car accident attorneys at the law firm of Brian G. Miller CO., L.P.A. can discuss your case with you today.
Sources:
trafficsafetymarketing.gov/get-materials/child-safety/child-passenger-safety-week
healthychildren.org/English/safety-prevention/on-the-go/Pages/Car-Safety-Seats-Information-for-Families.aspx