Hazardous Materials Carried by Semi-Trucks in West Virginia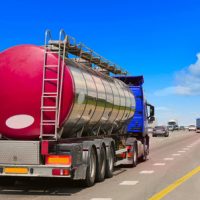 Semi-trucks in West Virginia may carry a wide range of hazardous materials. These include explosives, corrosive chemicals, toxic sludge, flammable liquids, and even radioactive waste. That semi-truck you see barreling down the highway might be carrying materials that could cause havoc if they spilled. Sometimes, the cargo is capable of causing more injuries and damage than the actual semi-truck itself. But what kind of hazardous materials do semi-trucks in West Virginia carry? More importantly, how can you gain compensation if you've been injured by one of these crashes in West Virginia?
Trucks Spill Dangerous Materials All the Time in West Virginia 
Unfortunately, chemicals and other hazardous materials are spilled due to accidents on a fairly frequent basis in West Virginia. On February 8th of 2023, it was reported that a train derailment in East Palestine, Ohio had caused toxic chemicals to be released into the environment. Unfortunately, these chemicals then leaked into nearby rivers after causing a chemical fire.
An evacuation was immediately ordered for everyone within a certain radius. Although the evacuation was not extended to West Virginia, the governor later admitted that the chemicals had leaked into the Ohio River. This river ran into the town of Weirton, which was forced to switch to a different water supply due to contamination fears. This shows how serious chemical leaks from crashes can be.
Trucking Company Accused of Causing "Public Nuisance" After Chemical Spill 
On January 5th of 2023, it was reported that the Kanawha County Commission had accused a trucking company of creating a "public nuisance" when a truck crashed on the West Virginia Turnpike, spilling chemicals that affected Paint Creek. A public hearing became quite heated when the Commission President reminded the trucking company's attorney that the trucker had been drunk when he crashed, stating:
"This isn't the first time he's drove a truck drunk. He spilled 3,000 gallons of a chemical, which is a hazardous material under state and federal law, that's what we are accused of doing."
 The trucker reportedly blew a .128 on the Breathalyzer – almost twice the legal limit. The chemical is called Empigen AS/F90, and it was toxic enough to kill 30,000 fish after first spilling into Skitter Creek and then into Paint Creek. If it's killing that many fish, it can't be good for humans – and unfortunately many residents have well water along Paint Creek.
Where Can I Find a Qualified, Experienced Semi-Truck Accident Attorney in West Virginia? 
If you've been searching for a qualified, experienced West Virginia truck accident attorney, you need to get in touch with Brian G. Miller CO., LPA. at your earliest convenience. With our help, you can hold negligent trucking companies accountable for your injuries – including those caused by hazardous materials. Whether you were injured directly in a crash or indirectly due to leaking or spilling materials, you deserve the right to take legal action. A settlement can provide you with enough money to cover your missed wages, medical expenses, emotional distress, and much more. Book your consultation today to get started.
Sources: 
cbsnews.com/pittsburgh/live-updates/east-palestine-ohio-train-derailment-hazardous-materials-ntsb-evacuations/
wvmetronews.com/2023/01/05/public-hearing-concerning-turnpike-wreck-chemical-spill-turns-heated/