What Steps Should I Take After A Pedestrian Collision In Columbus?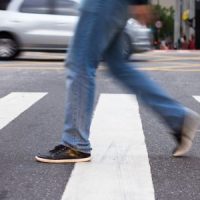 Pedestrian accidents in Columbus can result in debilitating and deadly injuries. According to data reported by CBS News, the recent rate of deadly pedestrian collisions has risen in Ohio, including in Columbus. Indeed, as that report indicates, national rates of fatal pedestrian injuries rose by 23 percent. The increase in Ohio was lower at just over 4 percent, but the rise was nonetheless notable. The Ohio State Highway Patrol attributes the increase in serious and deadly pedestrian collisions to a rise in distracted driving and speeding among motorists. When a pedestrian is injured in a collision with a motor vehicle, what steps should that pedestrian take in order to be eligible to obtain compensation? The particular process for a pedestrian injury claim will depend on the details of the case, but the following are general steps that a pedestrian should take after a collision that causes an injury.
Call 911 
Pedestrians often sustain devastating injuries in collisions with automobiles. The U.S. Centers for Disease Control and Prevention (CDC) reports that more than 7,000 pedestrians are killed on roads in the United States annually, which averages to approximately one pedestrian death every 75 minutes. Accordingly, a pedestrian may not be able to take any immediate steps after a collision. However, if your injuries still allow you to use your smart phone, you should call 911 so that the police can arrive at the scene.
Document the Scene Where the Collision Occurred
Next, it is critical to document the scene of the pedestrian accident. You should identify the specific area where the collision occurred, and you should document your physical injuries. It is also important to photograph the vehicle that struck you, identifying and visual evidence of the collision.
Obtain Information from the Driver
 The driver that struck you is required by law in Ohio to remain at the scene of the collision until the police arrive. While the police will take information from the motorist and will fill out a police report when they arrive at the scene, you should also obtain information from the driver, including name, contact information, and driver's license details.
Ask for Witness Information
 If you are physically and mentally able to interact with possible witnesses after a pedestrian collision, you should ask for contact information from anyone who saw the collision occur.
See a Doctor as Quickly as Possible 
Most pedestrians who are injured in collisions with motor vehicle drivers know that they need medical attention. Yet even if your injuries seem minor, you should see a doctor as quickly as possible. You could have sustained severe injuries that will not produce immediately obvious symptoms, such as internal bleeding or a spinal injury.
Hire a Pedestrian Accident Attorney 
As soon as you are able to do so, you should hire a Columbus pedestrian accident lawyer who can help you to file a claim for financial compensation. It will be critical to file your lawsuit before the statute of limitations runs out, but at the same time, most injured pedestrians do not want to wait that long to seek compensation. The quicker you seek advice from an attorney, the sooner you may be eligible to obtain a settlement or a damages award to compensate you for your losses.
Contact a Columbus Pedestrian Accident Attorney Today 
Any pedestrian who was injured in a collision with a negligent motorist should get in touch with an experienced Columbus pedestrian accident lawyer at the law firm of Brian G. Miller CO., L.P.A. about filing a lawsuit to seek compensation.
Sources:
10tv.com/article/news/local/data-shows-rise-deadly-pedestrian-crashes-in-ohio/530-419c35ea-ae48-46ee-8019-7b23ea5e0244
cdc.gov/transportationsafety/pedestrian_safety/index.html
codes.ohio.gov/ohio-revised-code/section-4549.02#:~:text=operator%20was%20operating.-,The%20operator%20shall%20remain%20at%20the%20scene%20of%20the%20accident,political%20subdivision%20or%20an%20ambulance