Emotional Distress: What Does It Really Mean In A Personal Injury Lawsuit?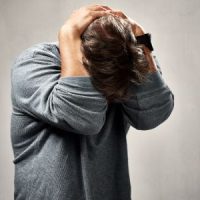 If you're approaching a personal injury lawsuit, you may have heard the term "emotional distress" being thrown around. The phrase might seem relatively self-explanatory, but the average plaintiff might not be aware of the legal definition and how it might apply to your specific lawsuit. The truth is that emotional distress means much more than simply feeling bad about your situation, and it could have a much greater effect on the outcome of your lawsuit.
Emotional Distress Is Just One Example of a Non-Economic Damage 
Emotional distress falls into the category of "non-economic damages." This means that unlike an economic damage like missed wages, emotional distress is not linked to any financial loss. Instead, the loss is purely emotional, mental, or psychological in nature. Non-economic damages are handled differently compared to economic damages because they are not as easy to quantify in dollar amounts. However, they can increase the value of your settlement while helping you achieve a sense of closure and justice.
Emotional Distress Explained 
Emotional distress represents the feelings you have when you look back on your accident. It also represents the feelings you had while you were experiencing your accident and its direct aftermath. These feelings aren't pleasant, and they may include things like:
Feeling stressed as you head into a surgery room after an accident
Feeling unsure about whether you'll ever truly recover
Worrying about the true extent of your injuries after the accident
Receiving the news that you'll never walk again
Worrying about the future of your relationships due to your injury
The physical pain associated with an injury
The stress of being given medication with difficult side-effects
These are just a few examples of how emotional distress might manifest, and you may have experienced different types of emotional distress in your own accident. Emotional distress is a very broad term that can include other specific non-economic damage like:
Anxiety
PTSD
Depression
Loss of enjoyment of life
Cognitive changes after a head injury
Diminished quality of life
The list goes on – but the general idea is that emotional distress involves virtually any type of mental, emotional, or psychological hardship after an accident.
Damage Caps for Non-Economic Damages in Ohio 
Ohio is one of the many states that places limits on compensation for non-economic damages. Unless you have suffered a "catastrophic injury" such as amputation or permanent disability/disfigurement, you can only receive $250,000 or three times the amount of economic damages – whichever is greater. That being said, non-economic damages are always limited at $350,000. There are some exceptions, such as lawsuits involving sexual assault of children.
Where Can I Find a Qualified Personal Injury Lawyer in Ohio? 
If you've been searching for a qualified, experienced Columbus personal injury attorney, look no further than Brian G. Miller CO., LPA. We understand that the typical injury involves much more than just unpaid bills. With our assistance, you can get all the compensation you need for economic and non-economic damages – such as emotional distress. The most important thing you can do to protect yourself and ensure you have opportunity to collect damages – other than following your physicians' advice and stick to your recovery plan (including all follow-ups, scan appointments, physical therapy (if needed), and consultations with any specialists – is to book your consultation quickly. If you delay too long, the statute of limitations – two years from the date of the incident for most Ohio personal injury cases – could prevent you from receiving any compensation. Reach out today to get started with a solid action plan.
Sources: 
hlaw.cornell.edu/wex/emotional_distress#:~:text=Emotional%20distress%20refers%20to%20mental,pattern%20of%20events%20or%20condition.
fedsoc.org/commentary/fedsoc-blog/ohio-supreme-court-rules-on-noneconomic-damages-cap