Steps To Take After A Car Crash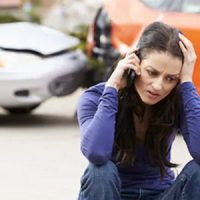 Car accidents can be frightening and disorienting, and it can be difficult to think clearly after a crash. Yet in order to be eligible to seek compensation for your injuries, it is important to consider the following steps.
Photograph the Scene of the Collision
 If you are physically able to do so, you should photograph the scene where the car accident occurred. Taking pictures on your phone will work well for documenting the scene since these images are date-stamped. You should photograph the broader area of the collision, and you should also take close-up photographs of physical injuries and property damage. A collision reconstruction expert may ultimately rely on your pictures to help prove that you are eligible for compensation.
Obtain Contain Information for Anyone Involved in and Any Witnesses to the Collision
 Do not leave the scene of the accident without obtaining contact information for everyone involved in the accident, as well as contact information for witnesses.
Seek a Medical Evaluation 
Many types of car accident injuries will not immediately result in symptoms. You should seek a medical evaluation as soon as possible to ensure that you receive timely and proper treatment.
Report the Collision to Your Auto Insurer 
You will need to report the crash to your own insurance company as soon as possible. When you report the crash, it is important to avoid providing subjective information. Answer questions with facts, and wait to provide any subjective responses until you have spoken with an attorney. Subjective information you provide could be used by the insurance company to deny your claim.
File an Auto Insurance Claim 
Most people who sustain injuries in car collisions will file an auto insurance claim. Many states, including Ohio and West Virginia, are tort or at-fault states, so it may be possible to file a first-party claim through your own auto insurance policy or a third-party claim through the negligent motorist's auto insurer. You should seek advice from a car collision attorney who can assist you with the claims process and can help to negotiate a reasonable payout from the auto insurance company.
Consider a Car Crash Lawsuit 
In many cases, an auto insurance claim is insufficient to cover a person's losses from a motor vehicle collision. Under Ohio law, motorists must carry a minimum of $25,000 in liability coverage for one person in an accident, and a minimum of $50,000 in liability coverage for two or more people injured in a collision. When a crash results in severe or life-threatening injuries, or when the at-fault motorist causes injuries to multiple parties, insurance limits will frequently prevent the injured parties from receiving compensation for the full amount of losses. As such, it may be necessary to file a car crash lawsuit.
To file a car crash lawsuit, you will need to ensure that you file your claim before the Ohio statute of limitations runs out. Most car crash lawsuits have a two-year statute of limitations, but you should begin working with an attorney as soon as possible to be certain that you file your lawsuit in a timely manner.
Contact a Columbus Car Accident Attorney Today 
If you were injured in a car crash in the Columbus area, it is important to seek advice from an experienced Columbus car accident lawyer about your options for filing a claim. Do not hesitate to get in touch with the lawyers at the law firm of Brian G. Miller CO., L.P.A. to find out more about car accident claims and the steps you should take to move forward with your case.
Sources:
bmv.ohio.gov/dl-mandatory-insurance.aspx
codes.ohio.gov/ohio-revised-code/section-2305.10