Yet Another Train Crashes in Ohio – This Time in Cleveland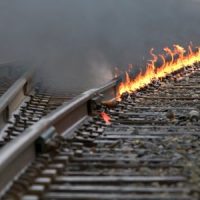 Train crashes are getting seriously out of hand in Ohio. First we saw a major derailment in East Palestine that caused an environmental and health catastrophe. On March 7th, a second train accident was reported – this time in Cleveland. At least one fatality has been reported, and serious questions are now being raised about the safety of the freight industry in Ohio and across the entire nation. But what can injured victims do after train crashes? What if you have lost your loved one in one of these train crashes? Let's find out:
One Fatality Reported in Cleveland After Train Crash 
On March 7th, it was reported that one train conductor had lost their life after a train crash in Cleveland. The collision involved a dump truck on the tracks, and a CLE train then impacted the vehicle. It's not quite clear what exactly happened, but the authorities state that the train conductor was struck by the dump truck as it was moving through a crossing. One would assume that a train would protect the conductor against an impact from a dump truck – which would suggest that the conductor was outside the train when the accident occurred. It's difficult to say who is at fault here – as the dump truck apparently stopped at a stop sign before moving through the crossing.
One thing is certain, however: This is the last thing Norfolk Southern needs right now. The company is already knee-deep in controversy thanks to the derailment in East Palestine, and this is yet another reason for critics to point the finger at its alleged negligence. This also comes directly after Norfolk Southern publicly promised to improve its safety protocols, and this crash seems to suggest that the safety situation is still lacking. In an official statement, the company stated that they are "[…] working to learn everything possible about the incident. Further, the company has been in contact with Ohio Governor Mike DeWine, SMART-TD union leadership, and Cleveland-Cliffs leadership."
Can You Sue After a Train Fatality? 
Each situation is different. The only way to determine whether you can sue for a train derailment is to get in touch with a qualified, experienced personal injury attorney in Ohio. That being said, the above example is probably an example of a workers' comp claim rather than a personal injury lawsuit. On the other hand, the dump truck was operated by a separate company – TMS International. In this situation, victims can potentially sue third-party contractors for injuries despite this being a workplace accident.
Where Can I Find a Qualified Train Accident Attorney in Ohio? 
If you've been searching for a qualified, experienced Columbus personal injury attorney, look no further than Brian G. Miller CO, L.P.A. Over the years, we have helped numerous injured plaintiffs. We know how dangerous trains can be in Ohio, and we're ready to guide you towards fair compensation for your damages. Book your consultation today to get started with an effective action plan.
Sources: 
fox8.com/news/norfolk-southern-employee-killed-in-cle-train-crash/
news.bloomberglaw.com/litigation/union-pacific-hit-with-557-million-verdict-over-train-collision